Newfoundland rover Don Brownrigg wants to go far. From the mountains and rivers of the Codroy Valley to his newfound homestead in Halifax, his musical meanderings are catalogued in his Wander Songs debut release.
Buy Wander Songs from CDBaby now:


The album features some of the city's finest, including former Thrush Hermit drummer Benn Ross , Down With The Butterfly 's Kris Pope , radical rhymer Tanya Davis and songbird Jenn Grant . Ottawa's Jim Bryson makes an appearance on electric guitar, too.

"Benn was the first to offer up his help," says Brownrigg. "That really boosted my confidence and got the ball rolling. Working with everyone was very comfortable and natural. I think the best advice when making an album of your own is to make sure you are the worst and least talented and you'll be fine."
With a little help from his friends, Brownrigg has created a timeless anthology. Over the course of the past few years he's been simmering, finding his footing around town, lending his keyboard talents to Davis and vocal help to Vanessa MacArthur . He was featured in the liner notes of Jesse Dangerously and The Heavy Blinkers ' release Verba Volant and the song is "The Day's Arc", which also features a rapper named Rez Villain. You can pick up that album here: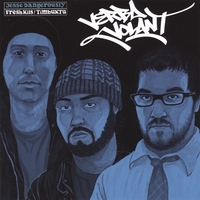 "I have gained the utmost of respect for anyone that's gone through the recording process," says Brownrigg. "You hate yourself, you love yourself, you want to be other people, but you eventually settle into yourself and what you're doing.
"I started a couple of times and put it away, as I didn't think I was ready. I knew I wasn't ready."
Wander Songs is a winding soundscape of thought, as the album is a personal passage through the roots of friendship, the yearning for love and growing into oneself. Brownrigg is a self-proclaimed thinker, observer and creator. His soft-spoken pensiveness reflects the precision and artfulness of his music.
"People and things that are natural inspire me," says Brownrigg. "I always say that I'm living in a generation or two too late.
"I sometimes get overwhelmed in the craziness and unnecessary necessities surrounding us. With everything advancing and being so overstimulating and overbearing, we're getting a little too vanilla as a society. I get inspired by people doing their thing once they find it, or by doing something that's a little out of the norm because it's their trail that their beating in the grass."
[Shannon Webb-Campbell, Chartattack (September, 2007)]
07 Aug 2008 22:00 The Ship St. John's, NL
10 Aug 2008 02:00 Winterset in Summer Literary Festival Eastport, NL
03 Oct 2008 20:00 Pop Montreal Montreal, QC
10 Oct 2008 20:00 Popkomm Festival – Club Aufsturz Berlin, Germany